Events
LIVE EVENT: B-Fest!
Saturday, June 11th, 2016 at 1 pm, I did a reading from THE MIRRORMASTERS at my local Barnes and Noble--Barnes and Noble Montgomeryville. It was a great time, and I want to thank the Barnes and Noble Montgomeryville team for their generosity and hospitality, and to Inspiring Teens Magazine, who was also part of B-fest today. It was great to meet everyone, and talk with fellow fans of teen fiction!
I was back again on Sunday, June 12th at 1 pm for a meet-and-greet and read once more from THE MIRRORMASTERS.
Have an upcoming YA book release that you'd like to promote? I would be thrilled to host events on this blog to give back to the writing community. If you'd like to schedule a blog tour, guest post, author/agent/editor interview and Q&A, a contest, or giveaway, please contact me at lorareedpalmer@gmail.com.
Book Release Blog Tour for The Watchers, Knight of Light by Dierdra Eden
Meet a new book series that's described as Braveheart meets Supernatural. On September 1st, the first post will go live, with book trailer and a giveaway! Then, stop back on September 10th for the follow-up post, which will hopefully include my review. In the meantime, check out the book's
goodreads
page to find out more.
Promotional Blog Tour posts include the
giveaway and book trailer
and the
release post
.
The Fall Anthology:
An anthology of short stories with an apocalyptic theme.
The Fall: Anthology and Interview with Matt Sinclair
Tahlia Newland: Promoting her Novella, You Can't Shatter Me:
Promotion series begins July 1st! For now, you can check out her website. The novella is described there as, "

a young adult magical realism novella about a couple of ordinary teens doing extraordinary things to solve a bullying problem."
Blog Event: Tahlia Newland and "You Can't Shatter Me"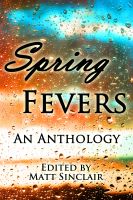 The Spring Fevers Anthology:
An anthology of short stories exploring relationships in all their forms.
Blog Tour: Interview with Mindy McGinnis
Blog Tour: Interview with Matt Sinclair
QUARTER LIFE CRISIS (A new Chick Lit ebook):
Born in Portland, Maine, Diana-Ashley began her literary career after moving to Baltimore, Maryland. She has since become a star in the realms of Poetry, Advertising, Short Fiction, and Fiction. Diana-Ashley now lives with her husband, and fellow writer, James Krach in South Florida.
Blog Event: Promoting QUARTER LIFE CRISIS by Diana-Ashley Krach