Blog Event: Promoting QUARTER LIFE CRISIS by Diana-Ashley Krach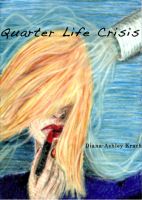 Diana-Ashley Krach is a fellow AQC'er with a new chick lit book, QUARTER LIFE CRISIS, available in ebook on Smashwords in a variety of formats. To snag it for free, use coupon code
GU44D. This offer expires May 12th.
About Quarter Life Crisis (from the Smashwords site):
Sam is incapable of having a girlfriend because of her trust issues, and prefers to be alone with the exception of her close circle of friends. Matti is always putting herself before others, especially when it comes to her boyfriends. Jayden is the independent one who doesn't play by any dating rules, yet she is always in a monogamous relationship. These girls don't fit the typical mold of the female stereotype, as babies and marriage were never on their radar. Though, when one of the girls, Jayden, actually gets married, a rift starts to develop between them. In order to mend the rift, they go on a camping trip. What starts as a simple camping trip, quickly turns into a journey of discovery and self-revelation, as each girl comes face-to-face with the woman they have become. They are quickly forced to realize that friends may be forever, but time will always change the friendships.
Sounds fantastic, right? It's getting great ratings already, and I will be checking it out. Diana has also expressed willingness to follow up with a guest post here, so check back with the events page for an update. I should note, especially since this mainly is a YA-related blog, that there is an adult content rating on the book, so it's basically for the over-17 crowd.
About Diana:
Born in Portland, Maine, Diana-Ashley began her literary career after moving to Baltimore, Maryland. She has since become a star in the realms of Poetry, Advertising, Short Fiction, and Fiction. Diana-Ashley now lives with her husband, and fellow writer, James Krach in South Florida.