Blog Tour: Interview with Matt Sinclair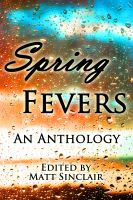 As promised, here is the interview with Matt Sinclair, one of the co-creators of the new
Spring Fevers anthology
. I'm very excited to have him on the blog today to share more about this fabulous book, which is available for free at Smashwords. Definitely check it out!
From the extended description on Smashwords:
"An anthology of short stories, Spring Fevers is an exploration of relationships in their varied states: love -- requited and unrequited -- friendships discovered and lost, family in its many guises, and the myriad places in between. Created by Cat Woods and Matt Sinclair, Spring Fevers arose from their work with the Agent Query Connect online writing community, and while membership in the free site was not necessary for inclusion in the anthology, the ten writers whose stories appear are all members. Authors include MarcyKate Connolly, S.Q. Eries, Robb Grindstaff, J. Lea Lopez, Mindy McGinnis, R.S. Mellette, Yvonne Osborne, Matt Sinclair, A.M. Supinger, and Cat Woods. The debut publication of Elephant's Bookshelf Press, Spring Fevers was edited by the team of Robb Grindstaff, Matt Sinclair, and Cat Woods, with cover design by Calista Taylor, and book design by R.C. Lewis. A new anthology is scheduled to be released in the fall of 2012. "
Isn't that cover gorgeous? Calista Taylor did such a beautiful job with that. Now, on to the interview:
1. So, what inspired all of you to get together to create this wonderful anthology?
It was an idea a few of us at Agent Query Connect bounced around, and Cat Woods and I ran with it. Getting our names out in front of readers is something both agented and unagented writers need to be doing as often as possible. I look at it as an example of having strength in numbers. In the current marketplace, there is so much noise that it's hard to get noticed. We looked at an anthology as a way to partner with several writers to get a similar message out to our own followings. In that way, we can amplify each other. A person might be familiar with the work of Mindy McGinnis but discover J. Lea Lopez as a result of their being in the same anthology.
2. How did you select the theme of relationships, and how do each of the stories reflect that theme?
We knew from the outset that we were looking for relationship stories. Right away, we noticed a trend in bittersweet stories rather than romance. There's certainly some romance in the anthology, but the stories truly take a broad look at relationships. Robb Grindstaff, who copy edited all the stories (aside from his own, which I copy edited) came up with the title Spring Fevers. I really liked it because it encapsulated so much of what we were seeing – the way spring weather, like new love, can change so quickly.
3. Give us a taste of the genres included.
We really think that everyone can find something they'll like. You'll find a few examples of young adult. In fact, we open with First Kiss, an engaging and slightly creepy YA story by Mindy McGinnis (better known among AQC folks as Big Black Cat or BBC). We also have some science fiction and fantasy, literary fiction, and humor. Robb Grindstaff's story, Dreams, still makes me chuckle no matter how many times I've read it.
4. How did you select the stories for this anthology? Were there any specific criteria you had in mind for the Spring Fevers anthology?
We were looking for strong writing. I also wanted characters who stayed with you after you moved on to another story. I liked the idea of these stories and people popping up in your mind when you're doing other things. I've already had the husband in Cat Woods' touching tale Annabelle visit me a couple times.
For this first anthology, we only approached writers we knew who we felt confident could submit strong stories that were on topic and engaging. And even in the next one, the quality of the writing will drive what gets accepted.
5. What was the process of putting it all together like, and how long did the project take?
We had a deadline in mind and worked backwards from that to develop submission deadlines. It was a little tough at times because the winter holidays fell in the middle of it, but we knew that going in. All in all, it was about a six-month process.
6. I understand there will be another anthology coming out next fall. What will this one be about, and how do we submit something for consideration?
There will indeed! We've gotten started with some of the initial footwork. We're planning to launch the second anthology in October. It's going to be more of a dystopian collection, with apocalyptic and post-apocalyptic stories, death and destruction and all manner of seemingly overwhelming challenges for characters to overcome. I figure that we'll need to release it in October so we can all get ready for the end of the world that's predicted to occur on December 21. I'm shooting for the Mayan calendar audience! ;-)
Once again, we'll be looking for excellent writing and memorable characters and settings in any genre except erotica. We'll be approaching specific writers again, but I think the cat's out of the bag. I expect we'll receive a lot more submissions this time. The email address for submissions is antholsubs@gmail.com which will go directly to me. Please note in the subject line Fall Anthology.
7. Was there anything I didn't ask yet about the anthology that you'd like to share?
I want to call attention to the team Cat and I put together. All of us were very involved in the process. Robb was great to work with. He's an excellent editor and writer. In my opinion, any writer looking for an editor should start with him. And we were fortunate to have Calista Taylor and R.C. Lewis, who, like Cat and myself, are AQC moderators, handling the cover and book design. It's easy to see the result and say, "Oh, that looks good," and not realize the work that goes into finding the right cover and making the copy that comes from ten different writers all look like one contiguous entity. Plus, R.C. designed for Smashwords and Kindle and the Print-on-Demand version that we're almost ready to launch. They deserve so much credit and they didn't even have any stories in the anthology! It really is a team effort. For the fall anthology, we've added Mindy McGinnis, who had a story in Spring Fevers. She's also a writer the YA dystopian novel Not a Drop to Drink, which will be coming out in 2013. She was incredibly helpful during Spring Fevers as was her agent, Adriann Ranta of Wolf Literary Services. I can't thank them all enough!
Fabulous interview, Matt, and best of luck with Spring Fevers and the upcoming anthology. I'm so looking forward to reading it as well, especially being a dystopian fan :). Thanks again for being with us on the blog today!